A passenger train derails, two wagons come off the tracks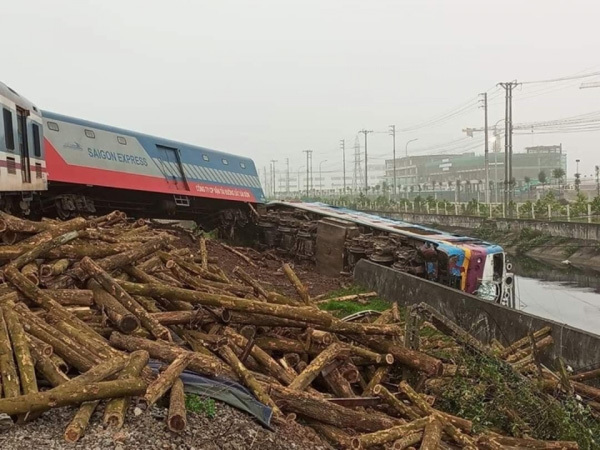 A passenger train en route from Hanoi to Ho Chi Minh City crashed into a truck carrying timber on January 27, knocking two cars off the track.
The locomotive was plunged into the nearby ditch. (Photo: OFFB)
The accident happened around 4:10 a.m. on the 46 km + 200 section of Ha Nam province, about 50 km from Hanoi.
The strong crash caused the D19E-946 locomotive to derail and plunge into the ditch alongside. Another car close to the locomotive was also forced to separate from the train, lying horizontally on the tracks.
The accident also caused the truck to overturn and deform. Pieces of wood were scattered on the train tracks.
Fortunately, the accident caused no casualties.
The truck reportedly lost control and hit the train. The exact cause of the derailment is under investigation.
The accident had an impact on the travel schedule of other North-South trains departing from Hanoi and Ho Chi Minh City.
Source: VOV

A collision between a train and a wagon leaves two dead and three injured in Quang Ngai
Two people were killed, including a one-month-old baby, and three others were seriously injured after a taxi they were traveling in collided with a train at a level crossing in the central province of Quang Ngai at 5 p.m. Tuesday.