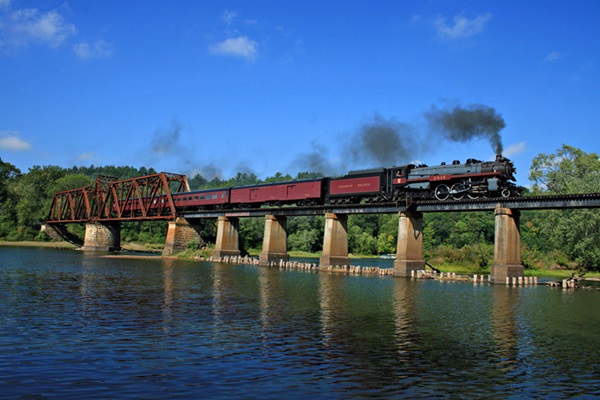 ---
CALGARY, Alta. — Canadian Pacific has released a video showing 4-6-4 #2816 being moved to its Calgary shop for overhaul. According to CP, #2816 is "being prepared for a special transcontinental trip from Calgary to Mexico City to celebrate the completion of the proposed CP-KCS merger, pending regulatory approval, and connecting a continental thanks to the creation of CPKC. "
In the video, the CP 1001, currently being tested to become the world's first hydrogen-powered line freight locomotive, pulls the 4-6-4 built in 1930 in the workshop.
Canadian Pacific 2816, also known as Empress, was built by Montreal Locomotive Works in December 1930. After being used in heavy passenger service, the locomotive was retired in 1960. In 1964 it was acquired by Nelson Blount's Steamtown USA then located in Vermont. CP bought the locomotive back in 1998 and after extensive restoration it was returned to service in 2001. The 4-6-4 ran on CP's network until its steam program was suspended in 2012. locomotive was then stored in Calgary until 2020, when it was briefly excited for a video shoot over the holiday season.
In 2021, CP Chairman and CEO Keith Creel said that if the Surface Transportation Board approved CP's merger with Kansas City Southern, the railroad would celebrate by bringing No. 2816 back to steam to lead a tour of Canada through the United States and Mexico. .
Click on the link to see the video of 2816.