Egyptian PM attends light rail trial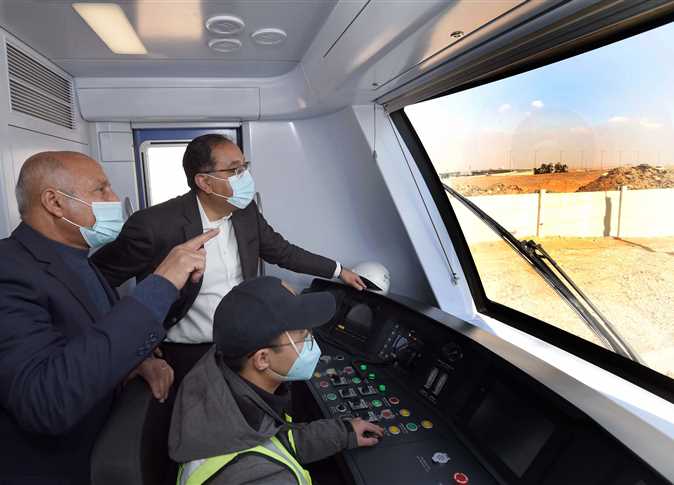 Egyptian Prime Minister Mostafa Madbouly, accompanied by Transport Minister Kamel al-Wazir, attended the start of pilot operations of the Light Rail Transit (LRT) project on Saturday.
The prime minister said earlier that there were orders from Egyptian President Abdel Fattah al-Sisi to quickly complete components of the new public transport system.
Madbouly explained that the project represents a qualitative leap forward that facilitates the movement of citizens quickly and safely, and keeps pace with the enormous development process that Egypt is currently experiencing.
The Minister of Transport said the implementation of the electric light rail project is part of directives from political leaders to expand the establishment of a green, clean and environmentally friendly public transport network. environment, and orders from President Sisi to inaugurate the LRT project, which includes: (al-Salam – the new administrative capital – the 10th of Ramadan) by March.
Madbouly also ensured the follow-up of the last finishes of the finishing works of the first phase (from the Adly Mansour station to the Arts and Culture station of the New Administrative Capital) with a view to the opening of the site on the scheduled date.
The prime minister and transport minister took one of the trains, which runs on a trial basis from al-Shorouk station to Badr station; to verify the progress of the test operations.
Madbouly also inspected the stations of the project, starting with Adly Mansour central interchange station which will include an integrated transport complex and a commercial investment zone, in an area of ​​15 acres.
And he further supervised the tests carried out on the supplied trains, as 12 trains (each with six cars) arrived from a total of 22 vehicles required for operation and the remaining 10 trains are currently dispatched – the all for a total cost of $227 million. .
The new trains will be part of the state's goals to overhaul the transportation system, positively impacting citizens' livelihoods by enabling them to move easily between the outskirts of new urban towns.
The project line guarantees rapid transport between Cairo and the new towns (Obour – Mostakbal – Shorouk – New Heliopolis – Badr – Industrial Zone and 10 Ramadan – the New Administrative Capital).
President Abdel Fattah al-Sisi and his Chinese counterpart Xi Jinping signed an agreement in September 2017 to build a $739 million electric train linking the 10th Ramadan city and New Cairo to the new administrative capital.