Florida's new passenger train unveiled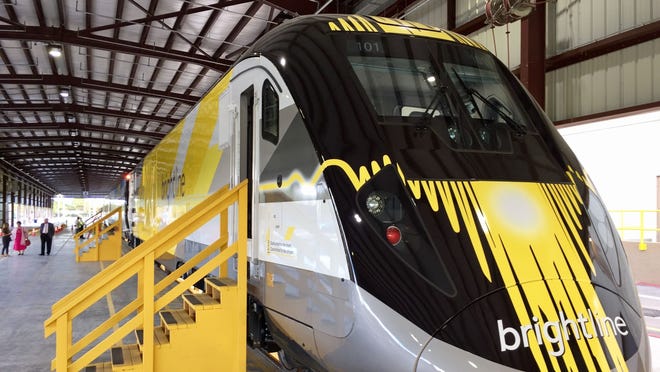 WEST PALM BEACH — After years of failed attempts to bring high-speed rail service to the Sunshine State, Brightline officials savored a historic moment on Wednesday, showing off the first train delivered to their center of operations in this southern city. from Florida.
The two locomotives and four passenger cars, collectively dubbed "BrightBlue," arrived in West Palm Beach last month and went on public display for the first time on Wednesday. The set will soon be followed by four others – BrightOrange, BrightPink, BrightRed and BrightGreen – with the hope of starting regular service by this summer.
If all goes according to plan, it will be the first private rail service launched in the United States in over 100 years. And for passengers, it will mark the culmination of years of effort to create a higher-speed rail option between the tourist havens of Orlando and Miami.
Brightline President Mike Reininger said he expects about 3 million passengers a year in the first phase of operations, which will run between West Palm Beach, Fort Lauderdale and Miami stations. By the time rail lines and stations are completed to Orlando, possibly by 2018, Reininger said they hope to attract up to 5.5 million passengers a year.
New train service in Florida to transport passengers between Miami and Orlando
Reininger is silent for now on the expected price of each trip. But he said it would be comparable to the cost of driving and said they expected to generate enough revenue to expand the service elsewhere.
"It's the start line, not the finish line, of course," he said. "We are introducing a type of disruptive product. We have learned so much about how to provide this type of transport service profitably with private sector investment that there must be other places in the country, and other places in Florida where we can expand that."
During a media tour on Wednesday, officials from Brightline and Siemens, the California-based company that built the cars, showed off the new train and the operating facility where they will be serviced.
Both locomotives have 4,000 horsepower 16-cylinder engines that will both run when the train is moving. Siemens' Russ Harvey said local laws limit train speeds to 79 mph throughout the heavily populated South Florida region. Once it's a bit further north on the way to Orlando it can reach 125 mph. And, if allowed, Harvey said it could go even faster.
"It can go 125 mph not even full throttle," Harvey said with a smile.
Trains, Glorious Trains: Best Rail Photos & Galleries
The passenger cars are very different from those on Amtrak or other passenger trains, with wide aisles and much more space in each seat.
32-inch-wide aisles allow wheelchairs and strollers to pass easily. The seats – 19 inches wide in standard "Smart" coaches, 21 inches wide in the top-of-the-line "Select" coach – are designed to recline so as not to interfere with passengers seated behind. All rows have power outlets and the tables include pop-up charging stations with power outlets and USB connections.
Each car has ample storage space that can accommodate bikes and larger bags. And every bathroom is designed to be completely hands-free, including doors, faucets and toilets that all operate with the wave of a hand.
Reininger said Wi-Fi service on the train will be "continuous, powerful and free". And he said the trains would introduce a new concept – stations built on the same level as passenger carriages, meaning people won't have to walk up and down stairs to board.
The BrightBlue train was pulled 3,000 miles from the Siemens factory in Sacramento, California to the West Palm Beach operations center. This means the first trials will begin next week, with officials placing 40-pound sandbags on each of the train's 240 seats to begin testing its operation with passengers on board.
After that, they expect to receive another train per month, ending up with five trains coming into service this summer.