Full steam ahead this year for Niigata steam locomotive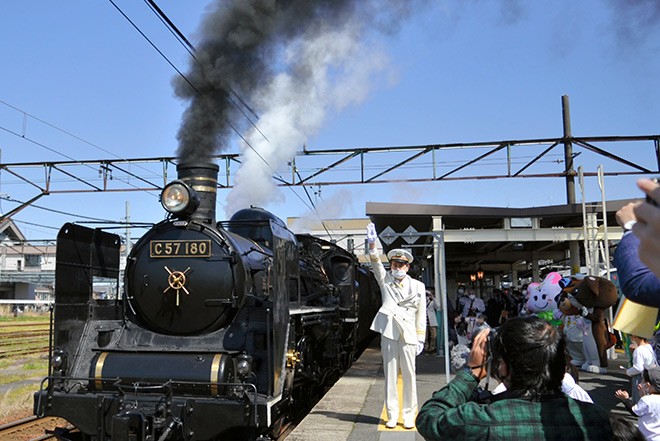 NIIGATA – Many families and railway enthusiasts flocked to the Niitsu Station platform here shortly before the scheduled departure time of the Banetsu Monogatari steam locomotive train at 10:03 a.m.
"I absolutely want to take the train this year," said Kanae Ishiyama, 31, who lives nearby. She brought her two young children to accompany the steam locomotive.
The SL Banetsu Monogatari steam locomotive began regular service on April 9, making a daily round trip between Niitsu Station and Aizu-Wakamatsu Station in Fukushima Prefecture on the JR Banetsu-sai Line, mainly the weekend.
East Japan Railway Co. (JR East) received many requests from fans who were concerned that the locomotive might be taken out of service as it suffered a delay due to a vehicle malfunction last year.
However, "it will continue to work as powerfully as ever," said Chiharu Matsuda, station master at Niitsu Station.
The excursion service will operate for a shorter period than usual, as a large-scale inspection is scheduled for the fall.
A C57-180 steam locomotive nicknamed "Kifujin" (noble lady) pulls the seven-car train.
Built in 1946, the steam locomotive had been kept in a primary school near Niitsu Station after it ended its service in 1969.
To meet growing calls for service to resume, JR East spent around 200 million yen ($1.6 million) to restore the steam train and began regular service as a tourist train in 1999.
The major inspection is scheduled from the fall of this year to the summer of next year.