Glasgow Central: steam locomotive to help create 'immersive' Victorian railway attraction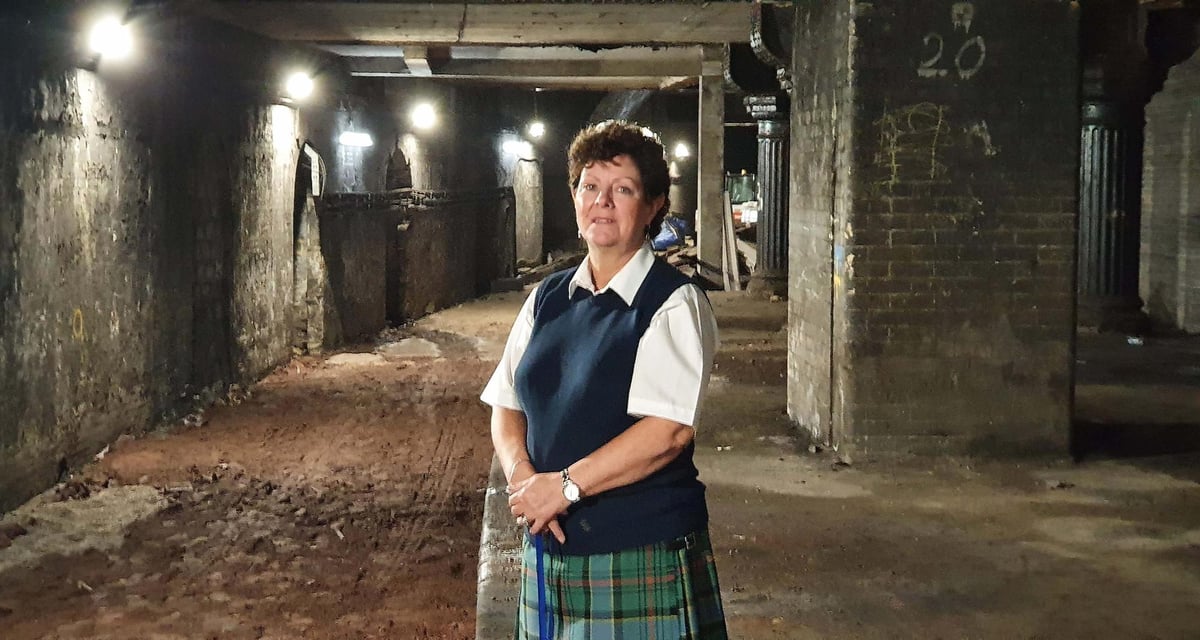 The Scottish Railway Museum in Bo'ness discusses the loan of the Glasgow-built Kelton Fell locomotive as part of plans to recreate the atmosphere of Glasgow Central Lower Station in its early years after it opened in 1896.
The platform, abandoned for almost 60 years, would return to the Victorian era through the use of gas, vapor and sound effect lighting as well as projections and holograms of people in period outfit.
The line, which runs through the city underground and was also used by coal trains, was described as "dark, sulphurous and plutonic" by author C Hamilton Ellis in 1938.
Glasgow Central Station Museum curator and tour guide Jackie Ogilvie on the disused platform. Photo: John Devlin
A 1930 passenger carriage built by Scottish railway company London, Midland for suburban services such as Glasgow can also be loaned from the museum for display after a 'cosmetic' restoration.
The currently empty platform is hidden behind the existing low station and has been the highlight of tours which have attracted some 100,000 visitors and won rave reviews.
On Sunday, Glasgow Central Station Museum curator and tour guide Jackie Ogilvie told Scotland: "It will go from a visit to an immersive experience and really bring the stories we tell to life."
The platform has been cleared of rubbish and it is hoped that the track to be put back in place will feature old wooden sleepers from the Levenmouth to Fife line, which is being rebuilt.
The abandoned platform was cleared of rubbish before the tracks were laid. Photo: John Devlin
Read more
Read more
Glasgow Central's hidden platform to be reopened after 50 years
Kelton Fell was built in 1876 at Hyde Park Works in Springburn by Neilson & Co for the Lanarkshire firm of William Baird & Co for a railway at its iron mines in Cumberland before working in various Lanarkshire coal mines until in 1968.
Director of the Scottish Railway Museum, Dr Becky Peacock, said: 'We are working with Jackie on what we could display on the 'Victorian Platform' and have identified Kelton Fell.
"We're excited to see how we can take this forward.
The industrial locomotive Kelton Fell has been chosen for loan to Glasgow Central. Photo: Scottish Railway Museum
"We are very keen to support the telling of Scotland's railway history.
"This is not for 100% historical accuracy, but to display something to bring the Victorian platform to life for the general visitor.
"There would be nothing more amazing than seeing a steam locomotive there.
"The platform already has the wow factor, but it would add a little something extra to the visitor experience."
The 1930 coach can also be loaned for display on the quay after exterior restoration. Photo: Scottish Railway Museum
Executive Director Tim Hedley-Jones said: "The trust is very supportive of Glasgow Central Tours' plans to re-establish the tracks on the disused low-level platform and we would be interested in a grant to undertake the restoration of the columns on the platform.
"It's a great way to bring some of the past stories of this magnificent station to life, and it fits in with one of our main aims to restore important railway heritage."
Network Rail, which owns the station, said plans have yet to be confirmed.
Scottish Route Manager Liam Sumpter said: "The tour is one of the main attractions for visitors to Glasgow city center and we are proud of the success the station team have had in creating a such a unique experience."
A steam train pulls into the now disused Glasgow Central Low Platform c1955. Photo: HC Casserley