Illinois Central's recreated passenger train to be featured in TV series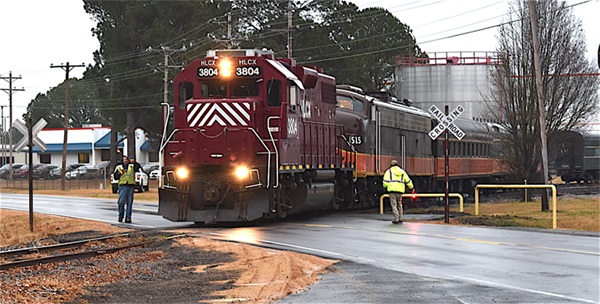 By: Will Adams
WINONA, Mississippi — Production crews at Kapital Entertainment of Los Angeles are working in northern Mississippi this week to recreate an Illinois Central passenger train that will play a key role in 'Women of the Movement,' an ABC series- TV set to air later this year. The circa 1950 passenger train consists of three pieces of former Iowa Pacific Holdings equipment – ​​an E9A passenger locomotive and two cars – and two cars from northern Ohio railroad preservation groups.
The locomotive and cars were assembled Friday morning at an industrial park spur near Winona, Mississippi. According to local officials, the gear will depict the Illinois Central Railroad passenger trains that carried 14-year-old Emmitt Till from his suburban Chicago home to visit relatives. to Money, Mississippi, where he was murdered, and another who brought Till's casket from Mississippi to Chicago.
Traveling Thursday afternoon and evening from Batesville, Miss., to Winona with San Luis & Rio Grande E9A No. 515 was Coach No. 133, Chambersburg Innand Round End Observation Car No. 3320, Paducach. All are painted in Iowa Pacific's Illinois Centra-inspired brown and orange paint scheme.
Two Cleveland-area cars complete the train: a 90-foot baggage car, equipped with a vestibule at one end, from the Cuyahoga Valley Scenic Railroad, and a coach from the Midwest Railway Preservation Society.
Local law enforcement officials said the train will run on the Grenada Railway later this month and the filming will include the use of the Durant and Grenada Railway depots. Local media and entertainment industry trade press will report that filming will take place in Memphis, Tennessee, and rural communities in northern Mississippi and Tennessee.
The six episodes of the program will tell the story of young Till's death, then focus on his mother, Mamie Till Mobley. Her heroic actions after her murder that are credited with helping start the modern civil rights movement, including Rosa Park's famous refusal to give up a seat on a city bus in Montgomery, Alabama.