Kentucky Steam and Pueblo Railway Foundation Exchange Parts for Steam Locomotive Restoration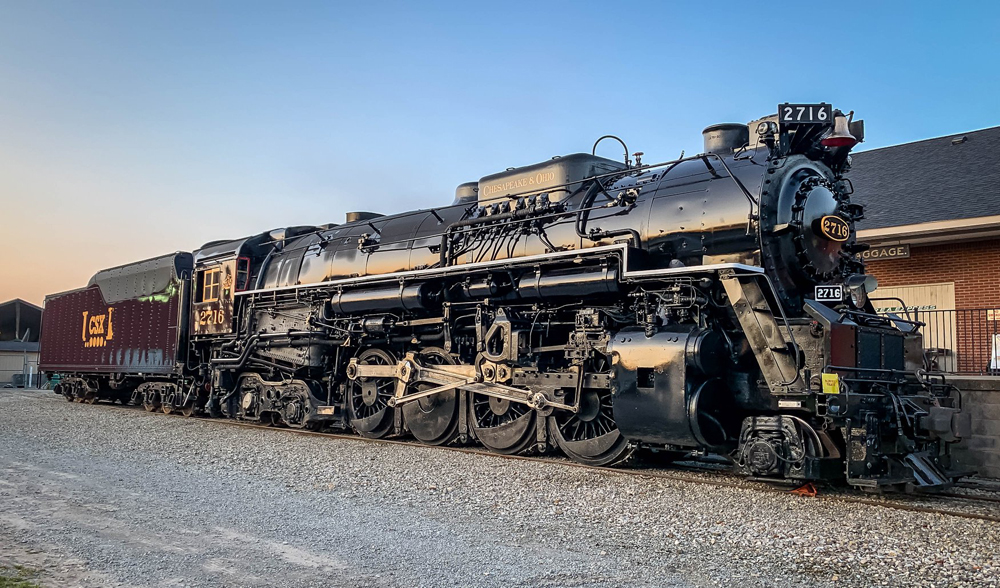 ---
RAVENNA, Ky. — Part of a Santa Fe engine is heading east to help restore a locomotive to working order, thanks to a creative collaboration between two unlikely preservation partners.
Two nonprofit organizations, the Kentucky Steam Heritage Corp. and the Pueblo (Colo.) Railway Foundation, will exchange locomotive components, bringing the restoration of a 78-year-old locomotive closer to completion.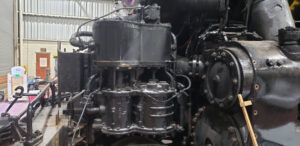 The move will send two completely rebuilt cross-compound air compressors from Pueblo's former Santa Fe 4-8-4 #2912 to Kentucky Steam, for use in rebuilding C&O 2-8-4 #2716 for operation. In return, Kentucky Steam will send the non-working air pumps from #2716 to Pueblo to be fitted to the cosmetically restored Santa Fe engine.
It is estimated that the partnership between two organizations that have not previously collaborated will save Project 2716 between $50,000 and $70,000.
The Pueblo Railway Foundation was established in 2003, taking over the railroad preservation assets and work of its predecessor, the Pueblo Locomotive & Rail Historical Society. The organization currently operates the Pueblo Railway Museum and owns several historic railroad equipment, including Santa Fe #2912, parts of which were completely rebuilt before the group decided to settle for cosmetic restoration. Among the rebuilt components were the air compressors now used on No. 2716.
These components use steam to produce compressed air, and the air is pumped into large capacity reservoirs on the locomotive. The readily available supply of air is vital to any railway operation, as the brakes of the locomotive and of each car are actuated by the application and reduction of air pressure.
Pueblo Foundation Manager Dave Dundurand explains, "Jason Sobczynski, Mechanical Director of Kentucky Steam Heritage Corp., was aware of the progress of our 2912 rebuilding efforts and contacted the PRF in late 2021 to inquire about condition and availability of air compressors. A deal was quickly struck to have the compressors from 2716 trucked to Pueblo for the exchange.
"The further we got into dismantling 2716," says Sobczynski, "the more we realized that the air pumps were going to be a significant investment of time and money. … Their willingness to work with us will save us a significant amount of resources and their motor will not undergo any cosmetic changes with the older 2716 pumps. It really is a win-win situation for both of us.
In addition to exchanging components, Kentucky Steam will donate to the Pueblo Foundation as a gesture of goodwill and to help defray some of the costs associated with completely rebuilding the compressors over a decade ago.
"It's quite a story that our mission can be achieved through a partnership with an organization over 1,200 miles away," said Kentucky Steam President Chris Campbell. "We can't thank the folks at the Pueblo Railway Foundation enough for considering our project worthy of support."
Reid Adams, another PRF officer, says the collaboration is welcome and can help both entities achieve their goals.
"We are excited to work with the Kentucky Steam Heritage Corporation and share the components of our vintage steam locomotive static display so C&O 2716 can become fully operational," Adams said. "…PRF and KSHC partnership shows how groups can work together to preserve historic railway artifacts."
More information about the Pueblo Railroad Foundation and Museum is available on the foundation's website. To learn more about Kentucky Steam, visit its website.