List of Steam Locomotives 2022 – Trains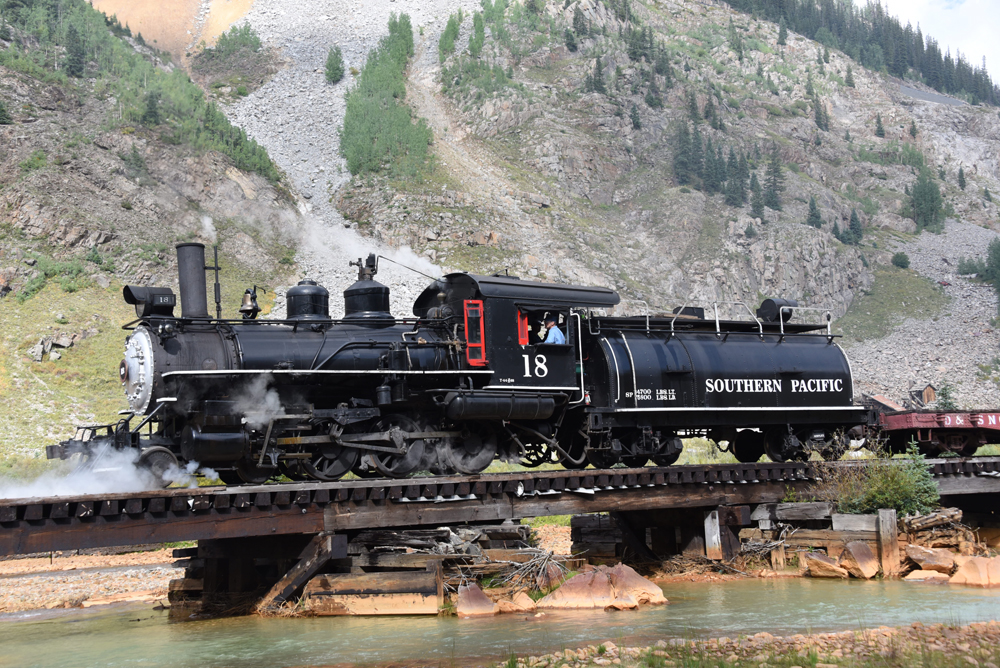 Here is our list of 2022 steam locomotives. As 2021 may be the best yet in the 21st century to be a steam locomotive enthusiast, 2022 is shaping up to be great too!
A Big Boy runs on Union Pacific mainlines, the last-built Baldwin steam locomotive flexes its jointed muscles on a mountain railroad, and at least six 4-8-4s steam an ocean to another and three others are being restored. Newly refurbished engines continue to emerge.
According to a survey by Trains magazine, approximately 153 steam locomotives operate in the United States in a public place at least one day a year. These locomotives have a gauge of at least 2 feet, have a history or are a replica of historical significance. The figure is a decrease from the first such survey carried out in 2008, when Trains placed the census on 190 steam locomotives. Here is the list.
2022 Steam Locomotive List of Trains
Total: 153
Methodology:
• Locomotives of 2 feet or more.
• Must run in a public place at least 1 day per year or be able to do so.
• Must have had some sort of previous life in regular freight or passenger service prior to preservation or be a replica of national significance.
Alabama-0
Alaska-2
• Alaska Railroad 0-4-0T N° 1 narrow coal 1899
• White Pass & Yukon 2-8-2 No. 73 Oil Narrow 1947
Arkansas- 0
Arizona- 1
• Grand Canyon Railway 2-8-2 No. 4960 standard oil 1923
List of California steam locomotives – 19
• Disneyland Railroad No. 3 2-4-4T (Baldwin 1894)
• Disneyland Railway No. 4 2-4-0 (Baldwin 1925)
• Disneyland Railway No. 5 2-4-4T (Baldwin 1902)
• Southern Pacific 4-6-0 No. 18 Oil Narrow 1911 from the Museum of Eastern California
• Knott's Berry Farm 2-8-0 No. 340 Oil Narrow 1899
• Niles Canyon Railway's Clover Valley 2-6-6-2T No. 4 oil standard 1924
• Niles Canyon Railway 2-4-4-2 "Skookum" Oil Standard No. 7 1909
• Niles Canyon Railway 1927 Robert Dollar 2-6-2T No. 3 Oil Standard
• Placerville & Sacramento Valley Railroad/Stathi Pappas 0-4-0T Oil Standard No. 2 1909
• Poway Midland Oil Standard 0-4-0 No. 3 1907
• San Bernardino Railroad Historical Society 1927 ATSF 4-8-4 Oil Standard No. 3751
• Sierra Railway 2-8-0 No. 28 Oil Standard 1922 Oil Standard
• Roaring Camp & Big Trees 0-4-2T No. 1 narrow oil
• Roaring Camp & Big Trees 2-truck Heisler Tuolomie narrow oil
• Roaring Camp & Big Trees 2-Truck Shay Dixiana Oil Narrow
• Roots of Motive Power 2 Truck Heisler No. 1 oil standard
• Roots of Motive Power 2-6-2T Oil Standard No. 1
• Yosemite Sugar Pine three Shay No. 10 oil narrow trucks
• Yosemite Sugar Pine three Shay No. 15 oil narrow trucks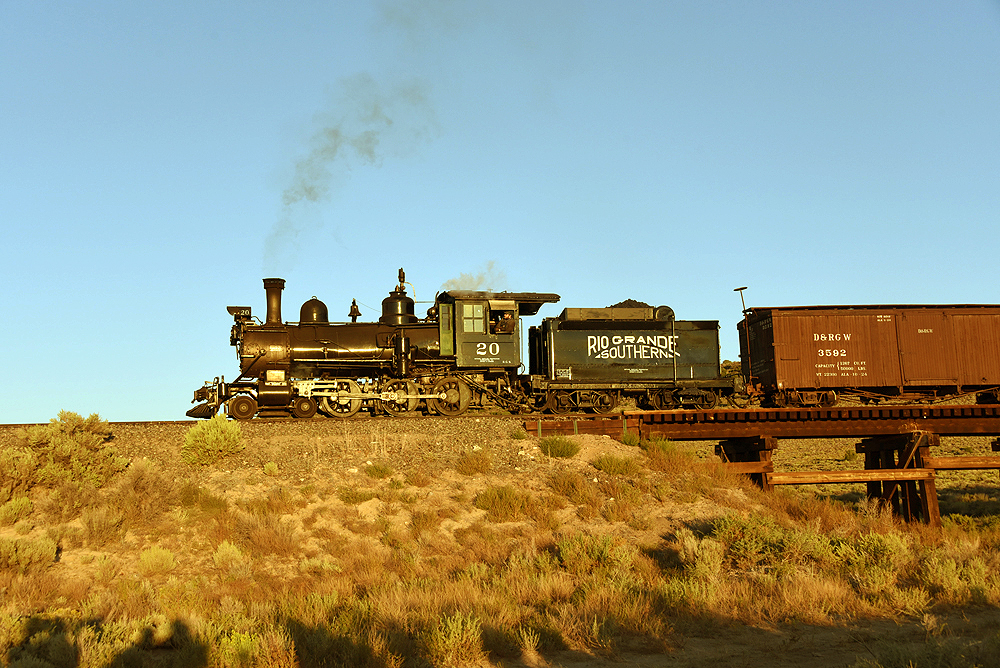 List of Colorado Steam Locomotives – 16
• Cripple Creek and Victor 0-4-4-0 N° 1 narrow coal
• Cripple Creek & Victor 0-4-0T n° 2 narrow coal
• Cripple Creek & Victor 0-4-0 n° 3 narrow coal
• Rio Grande 2-8-2 n° 491, narrow from the Colorado Railroad Museum
• Rio Grande 2-8-0 No. 346 from the Colorado Railroad Museum
• Rio Grande Southern 4-6-0 No. 20 narrow coal from the Colorado Railroad Museum
• Durango & Silverton 2-8-2s n° 473, 476, 480, 481, 486, 493 //// 2 coal 4 oil narrow
• Denver & Rio Grande Western 2-8-0 No. 315/425 Durango Railroad Historical Society narrow coal
•Georgetown Loop 2-8-0 No. 40 narrow oil
•Georgetown Loop 2-8-0 No. 111 narrow oil
• South Park Rail Society 2-6-2 No. 4 narrow oil
Connecticut—3
• Connecticut Antique Machinery Association Hawaii Railway 2-4-2 No. 5
• Valley Railroad 2-8-2s Nos. 40 and 3025 standard carbon
Delaware- 1
• Wilmington & Western Coal Standard 0-6-0 No. 58
Florida – 1
• US Sugar 4-6-2 Oil Standard No. 148 from the 1920s
Georgia – 1
• Georgia Agricultural Museum 0-4-0T No. 2
Hawaii – 2
• Grove Farm Museum 2-4-0T "Paulo" (Hohenzollern, 1887) and 0-6-2T "Wainiha" (Baldwin, 1915)
Illinois-2
• Illinois Railroad Museum Frisco 2-10-0 No. 1630 Coal Standard
• Shay No. 5 Coal Standard by J. Neils Lumber of the Illinois Railway Museum
Indiana-5
• Hesston Steam Museum 2-6-0 Coal Standard No. 2
• Fort Wayne Railroad Historical Society's Nickel Plate Road 2-8-4 No. 765 standard coal 1944
• Gramling Locomotive Works Jeddo Coal 0-4-0T No. 85 Coal Standard
• Gramling Locomotive Works Lehigh Coal 0-6-0T No. 126 Coal Standard
• Private Bock Lumber Co. 0-4-4T No. 1 at Hoosier Valley Railroad Museum standard
Iowa-3
• Iowa Interstate 2-10-2 No. 6988
• Midwest Central 2-6-0 No. 6
• Westside Lumber Co. to 3 Shay No. 9 trucks from Midwest Central
Kansas- 1
• Abilene & Smokey Valley Railroad Santa Fe 4-6-2 No. 3415 Oil Standard
Kentucky- 0
Louisiana – 0
Maine- 4
• Boothbay Railway Museum 0-4-0T No. 6 (Henschel 1934)
• Wiscassett Waterville and Farmington 0-4-4T #9
• Maine Narrow Gauge Museum B&SR No. 7
• Monson 0-4-4T n° 3 of Maine Narrow Gauge
Maryland- 1
• Western Maryland Scenic 2-6-6-2 n° 1309 standard coal 1949
Massachusetts- 1
• Edaville 0-4-0 n°11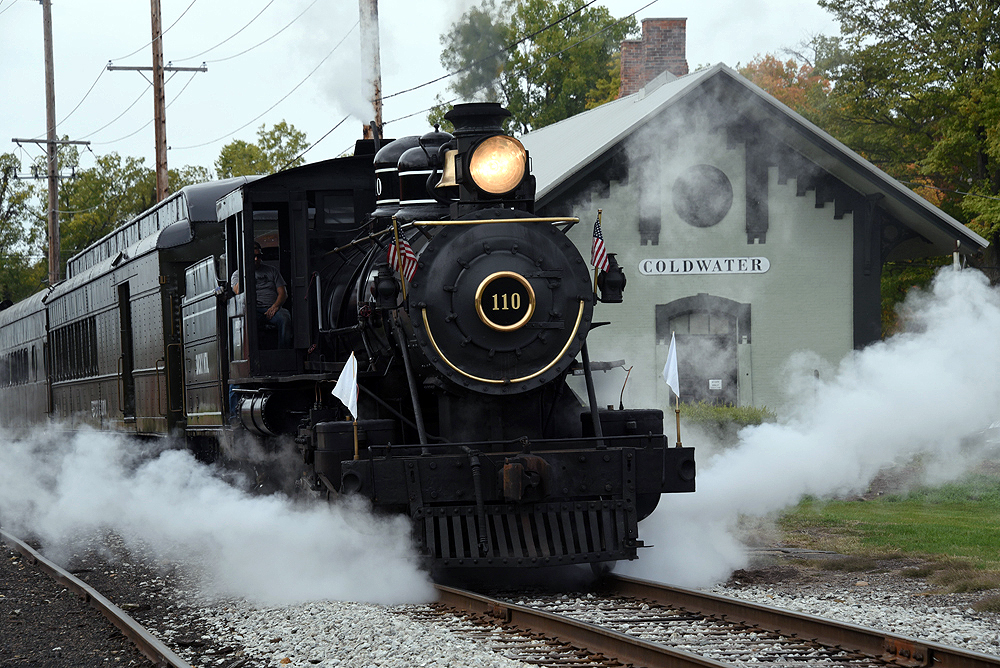 Michigan- 7
• Buckley Old Engine Show Army 0-4-0T
• Henry Ford's 0-6-4T No. 3 Torch Lake (the oldest operating locomotive in the United States in 1873)
• Detroit and Lima Northern of Henry Ford 4-4-0 No. 7
• Huckleberry 4-6-0 No. 2 Railway
• Pere Marquette 2-8-4 No. 1225 Standard Charcoal 1940s
• Small river 0-4-0T n° 1
• Little River 4-6-2 n° 110 coal/wood standard 1911
Minnesota- 4
• Lake Region Steam Threshers 0-4-0T No. 2
• Milwaukee Road 4-8-4 #261 standard coal 1944
• Line Soo 0-6-0 No. 353 Western Minnesota Steam Thresher
• 0-4-0 #3 Western Minnesota Steam Thresher
Missouri- 4
• Silver Dollar City 0-4-0T No. 14
• Silver Dollar City 0-4-0T No. 43
• Silver Dollar City 0-4-0T No. 76
• Silver Dollar City 0-4-0 #504
Mississippi-0
Montana-0
Nebraska – 1
• The Austrian 30-inch 0-6-2T from Henry Doorly Zoo
Nevada – 7
• Dan Markoff's Eureka & Palisade 4-4-0 No. 4 Narrow Woods
• Nevada Northern 2-8-0 No. 81 standard coal 1917
• Nevada Northern 2-8-0 No. 93 standard coal 1909
• Nevada State Railroad Museum 4-6-0 Glenbrook
• Virginia & Truckee 4-4-0 No. 22 Inyo from the Nevada State Railroad Museum
• Virginia & Truckee 4-6-0 No. 25 from the Nevada State Railroad Museum
• Virginia & Truckee Oil Standard 2-8-0 #29
New Hampshire- 4
• Conway Scenic 0-6-0 Coal Standard No. 7420
• Mount Washington Cog 0-4-4-0 n° 2, 6 and 9
New Jersey – 2
• Black River & Western 2-8-0 No. 60 Coal Standard
• SMS 0-6-0 No. 9 Coal Standard
New Mexico — 7
• New Mexico Steam Locomotive & Railroad Historical Society 1940s ATSF 4-8-4 Oil Standard No. 2926
• Cumbres & Toltec Scenic 2-8-2s n° 463, 484, 487, 488, 489 //4 coal 1 oil narrow 1920s
• Cumbres & Toltec's Denver & Rio Grande 4-6-0 No. 168 narrow coal
New York – 1
• American viscose Scott Symans 0-4-0T n° 6
North Carolina – 3
• Great Smoky Mountains Railway 2-8-0 No. 1702 standard 1940s oil
• Tweetie 4-6-0 n° 12 narrow charcoal
• Tweetie 2-8-2 n° 190 narrow charcoal
North Dakota – 0
Oklahoma- 0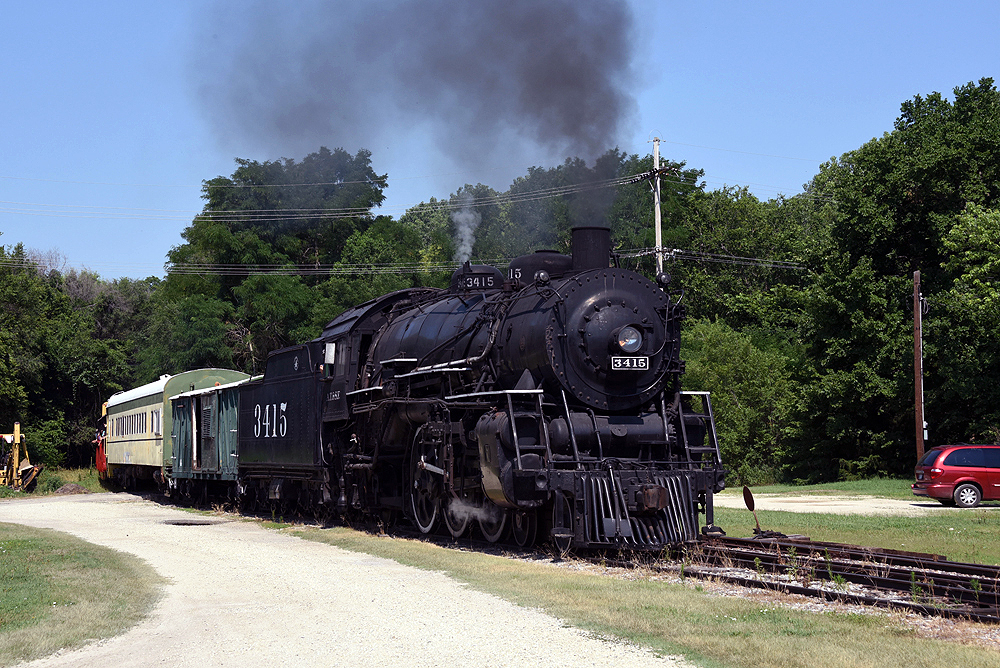 Ohio–7
• Cedar Point and Lake Erie #1 2-4-0
• Cedar Point and Lake Erie #4 2-4-0
• Cedar Point and Lake Erie #5 2-4-0
• Point Cedar and Lake Erie #22 2-4-0
• Hocking Valley 0-6-0 #3 Coal Standard
• Age of Steam's Morehead & North Fork 0-6-0 Coal Standard #12
• Youngstown Steel Heritage 0-4-0T n° 58 narrow coal
Oregon – 8
• Shay No. 1 Oil Standard for 3 Town of Prineville Mount Emily Trucks
• Oregon Coast Scenic's Craig Mountain Lumber 2-truck Heisler No. 3 oil standard
• Oregon Coast Scenic McCloud River Railway 2-6-2 No. 25 Oil Standard
• Oregon Coast Scenic Polson 2-8-2 No. 2 Oil Standard
• Albany & Eastern's Santa Maria Valley 2-6-2 Petroleum Standard No. 205 from the 1920s
• Sumpter Valley 2-8-2 N° 19 narrow oil
• WH Eccles 2-truck Heisler No. 3 Sumpter Valley narrow timber
vOregon Railroad Heritage's Southern Pacific 4-8-4 No. 4449 oil standard 1941
List of steam locomotives in Pennsylvania – 13
• Bucksgahuda and Western 0-4-0T No. 1
• Strasbourg 4-8-0 n° 475, 2-6-0 n° 89, 2-10-0 n° 90 standard coal
• New Hope & Ivyland 2-8-0 #40 Coal Standard
• Everett 2-6-0 #11 Coal Standard
• Pioneer 0-4-0T Tunnel No. 1
• Railway Restoration's Central of New Jersey 0-6-0 No. 113 standard coal
• Reading & Northern 4-6-2 No. 425 Coal Standard
• Star Barn #63 4-4-0 Oil Standard
• Steamtown Baldwin Plant Switch 0-6-0 No. 26 Coal Standard
• Navigate to York's Northern Central 4-4-0 Oil Standard #17
• Pennsylvania Railroad Williams Grove Historical Steam Engine Association 0-6-0 Coal Standard No. 643
South Carolina – 0
South Dakota – 3
• Oil standard Black Hills Central 2-6-6-2Ts n° 108 and 110
• Prairie Village 0-6-0 No. 29
Tennessee- 4
• Southern 2-8-0 n° 630 standard coal 1904
• Southern 2-8-2 n° 4501 standard coal 1911
• Dollywood 2-8-2s n° 70 and 192
Texas-3
• Six Flags Texas 2-4-2 #2
• Six Flags Texas 2-4-2 #2
• Texas State Railroad 2-8-0 No. 30 oil standard
Utah- 2
• United States National Park Service replica of the Union Pacific 4-4-0 #119 Coal Standard from the 1970s
• United States National Park Service replica of the 1970s Central Pacific 4-4-0 Jupiter wooden standard
Vermont – 0
Virginia – 1
•Norfolk & Western 4-8-4 No. 611 standard coal 1950 from the Virginia Museum of Transportation
Washington State – 1
• Northwestern Railway Museum's Northern Pacific 0-6-0 #924
Wisconsin- 2
• Soo Line 2-8-2 No. 1003 standard charcoal
• Rock River Threshers 0-4-0 #7
West Virginia – 6
• Cass Scenic Railroad Shays n° 2, 4, 5 and 11 standard coal 1905,
• Cass Scenic Railroad Climax 9 standard coal 1919
• Cass Scenic Railroad Heisler 6 Coal Standard
Wyoming- 2
• Union Pacific 4-8-4 Oil Standard No. 844 of 1944
• Union Pacific Oil Standard 4-8-8-4 No. 4014 1941