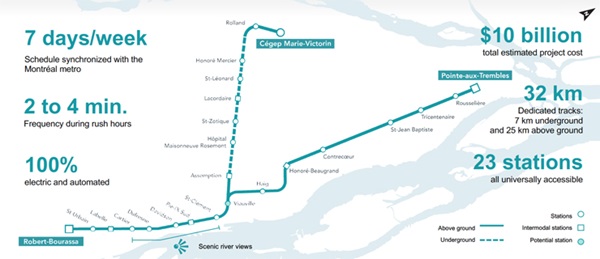 ---
MONTREAL — The province of Quebec and the city of Montreal will resume a controversial light rail project after the province's pension fund manager pulled out and make major revisions to what had been a proposed C$10 billion system on 20 miles.
The Montreal Gazette reports The Premier of Quebec, François Legault, and the Mayor of Montreal, Valérie Plante, announced Monday the new direction of the REM de l'Est project. They said the new plan would eliminate the elevated portion of downtown Montreal, integrate the rest with an existing subway line and alter the potion in the Mercier-Est neighborhood, where residents have protested potential negative impacts.
The provincial pension manager, the Caisse de depot et placement du Quebec, which is continuing to build the separate Réseau express métropolitain light rail project that will serve other parts of the Montreal area, has pulled out of the project after the regional transportation company said the Eastern REM would be expensive, visually damaging to the city, and offered no clear transit benefit.
The CBC reports Legault said eliminating the elevated portion meant the project was no longer viable for the infrastructure arm of the pension fund, CDPQ Infra. It is not yet known how the changes will affect the price of the project or its completion date. The project initially aimed to be operational in 2029.