"Mega China": China becomes the world leader in high-speed rail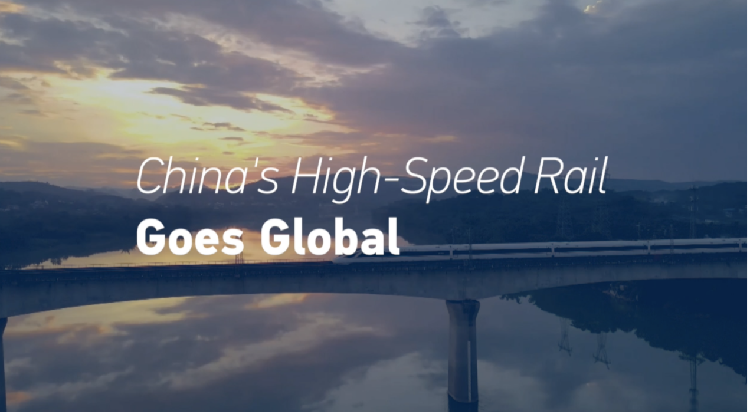 The size of 66 football pitches and a daily passenger flow to reach more than 100,000, a station beast sits at the heart of China's Beijing-Tianjin-Hebei region – a major economic zone around the Chinese capital. Xiong'an Railway Station is not only big in size but also smart inside.
The station has five floors with three levels above ground serving as a waiting area and platforms, and two underground levels connected to the subway system.
This is my first time visiting the station.
Xiong'an Raiway Station. /CGTN
Xiong'an Raiway Station. /CGTN
A smart and modernized station
"Although we provide warm service to passengers, we also use a variety of intelligent service equipment. For example, the integrated air conditioning station in the waiting room on the first floor. It is an intelligent device that combines air conditioning units, air purifiers, floor heaters and 5G signal boosters," said Liu Dongmei, the deputy station master who was kind enough to show me around Xiong'an Station.
The top of each elevator beam glows in different colors to let passengers know when to board the train. Green for boarding, red for closed boarding.
Construction took two years – quite fast for such a huge structure.
This also includes underground tunnels and other support facilities.
Xiong'an New Area
Xiong'an New Area is a state-level planned city located 100 kilometers south of Beijing.
It must be larger than New York City and help relieve the capital of non-essential functions and reduce its population, while creating a hub of innovation for the surrounding region.
A map of the Xiong'an New Area. Xu Xinchen/ CGTN
A map of the Xiong'an New Area. Xu Xinchen/ CGTN
"If you want to develop your economy or boost the development of science and technology, a bad traffic system will cut you off from the outside," said Yang Xiangfu, deputy director of the Xiong'an branch of the eighth bureau. construction engineering in China.
The development started in 2017 and the circulation system has been the key pillar of this city.
"The Xiong'an New Area is doing well, and the city's traffic network has been formed in a preliminary way," Yang said.
With the New District Railway Station in operation, high-speed trains can take passengers to Beijing in just 19 minutes.
There are over 5,500 stations that have high-speed trains across the country with over 50 similar in size to Xiong'an Station.
Over the past decade, China's high-speed rail network has grown from less than 10,000 kilometers to over 40,000 kilometers…making it the longest high-speed rail network in the world. Long enough to circle the entire equator and quickly.
Zhang Yitao has been driving high-speed trains for three years. And it was he who drove the first high-speed train between Xiong'an and Beijing.
I had the chance to ride with him.
China's high-speed train can now travel at a maximum speed of 350 kilometers per hour, significantly reducing travel time and improving connectivity.
"As a high-speed train driver, I have personally witnessed the rapid changes in China's high-speed rail network in recent years," Zhang said.
"Our working environment, as well as train reliability, convenience and intelligence of operation have been constantly improving," he added.
China exports its railway technology to other countries.
As I was on my train back to the Chinese capital, I called Hu Xuhong – a seasoned bullet train expert.
China has lagged for more than 40 years in the development of high-speed trains compared to other Western countries, according to Hu. But the country is now a leader in the industry.
"And that's because our trains had to operate in different scenarios and overcome many problems," Hu said. "In other words, we have tested all these operational scenarios, and therefore we can help countries that want to build new high-speed railways. Our rich experience has helped us to go global."
Extensive use of high-speed railways has helped China accumulate enough experience to share it with the world – by building high-speed railways and stations in other countries.
In June 2022, the International Union of Railways published the world's first international standards for the construction of high-speed railways formulated on the basis of China's experience.
China's high-speed railway is going global.
High-speed rail revolutionized intercity travel and is now a billion-dollar business that has the potential to change modern international travel – bringing greater economic development along the lines.