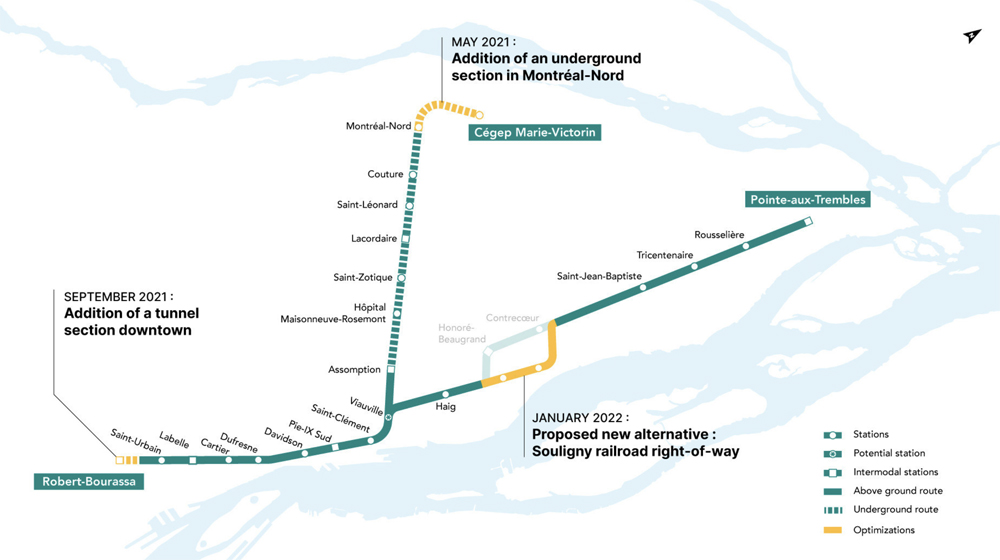 ---
MONTREAL — The controversial REM de L'Est, planned as the second phase of Montreal's Réseau express métropolitain light rail project, faces an uncertain future after the pension fund behind the project said that would seek to delay environmental hearings.
The CBC reports that CDPQ Infra, the infrastructure project arm of Quebec's pension fund manager, the Caisse de depot et placement du Quebec, said it would not proceed with the environmental hearing for the $10 billion project Canadian dollars until it has a better understanding of the City of Montreal's continuing concerns about the project.
Montreal Mayor Valérie Plante responded that the city had voiced its concerns in a report from an advisory committee. "We expect CDPQ Infra to do its homework and respond to the requests expressed" in this report, Plante said.
The project has faced criticism that its plans for an elevated section in downtown Montreal would be an eyesore, a concern that reportedly prompted two design firms to quit and led to the addition of a tunnel in the downtown maps. [see "Builder of Montreal light rail line agrees to downtown tunnel," Trains News Wire, Sept. 3, 2021].
The delay means that construction of the 20-mile, 23-station project will not start in 2023 and will not be operational in 2029, as originally planned. But the provincial government says the project will still be built.