Reading the profile of the steam locomotive T-1 4-8-4 2102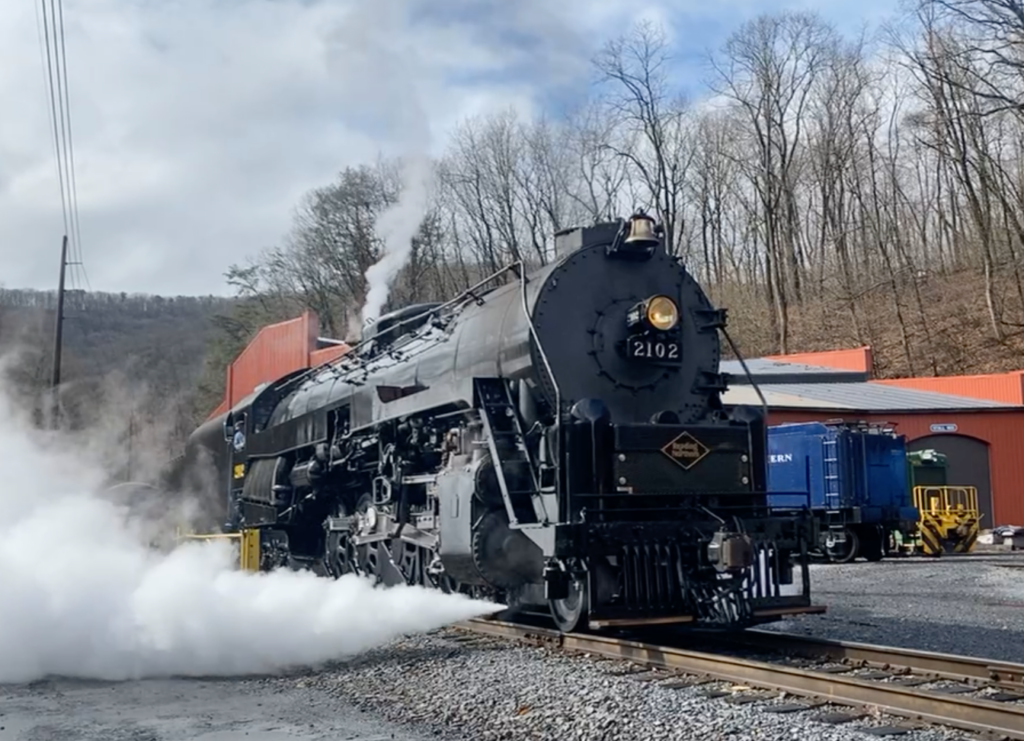 Reading T-1 4-8-4 2102 is a steam locomotive of the Reading Company T-1 class locomotives built by Reading in the 1940s. passengers and freight in northeastern Pennsylvania on the line operated by its owner and railroad, the Reading & Northern. Periodic updates are available from the railway.
Reading T-1 4-8-4 introduction
Bert Pennypacker wrote about Reading's T-1 locomotives in the December 1960 issue of Trains and described their history. No. 2102 began life as Reading 2-8-0 No. 2044, a consolidation-type heavy locomotive. The locomotives were originally built by Baldwin Locomotive Works of Philadelphia from 1923 to 1925. They formed the I-10sa class of steam locomotives and were noted for their large size – much larger than comparable engines on other contemporary railways.
Towards the end of World War II, the locomotives were chosen to supply boilers and parts for the planned 4-8-4 T-1 locomotives, in part because of their already large size. Reading rebuilt the locomotives in its own shops in Reading, Pennsylvania from 1945 to 1947 – among the last new mainline steam locomotives built in the United States.
Reading rebuilt No. 2102 and sister locomotives with 27-by-32-inch cylinders, 70-inch-diameter drive wheels, 240 psi operating boiler pressure, and 68,000 pounds tractive effort. This was bolstered by a trailing truck booster that originally provided 11,100 pounds of tractive effort. The renewed locomotives weighed 441,300 pounds, much more than the 314,950 pounds total weight of the original consolidations.
Reading 2102 in use
Locomotive 2102 and its sister engines were used in passenger service as well as hauling dirty coal to fast freight service for the Reading. Pennypacker wrote in 1960 that Reading train crews used T-1 locomotives to track passenger train operations and even eliminate helper service at some locations.
"It was the first (and only) completely modern, high-speed, high-powered freight engine Reading ever had," wrote Pennypacker.
The T-1 locomotives had varied service until Reading stored them in 1954. The Pennsylvania Railroad borrowed several in 1956 to relieve it of a shortage of motive power. But it was inglorious service. No. 2012 was even depicted in Trains as a stationary steam boiler in June 1960 (Trains, December 1960, page 23).
Iron Horse Rambles and the Present
On an experimental basis, Reading returned T-1 No. 2124 to service for a limited time as a passenger excursion engine during the "Reading Rambles" of the early 1960s. No. 2102 participated in these excursions popular before being retired a second time and changing ownership several times until purchased by Reading & Northern owner Andy M. Muller Jr. in the mid-1980s. Muller operated the locomotive in the Northeast of Pennsylvania and even on Conrail tracks prior to long-term storage and retirement in 1991.
Today, Reading No. 2102 is going through a period of restoration and running-in with the first new 'Iron Horse Ramble' scheduled for May 28, 2022. The locomotive is initially expected to operate as a motive power for coal-fired trains.