Shaping Auckland: how light rail will change the city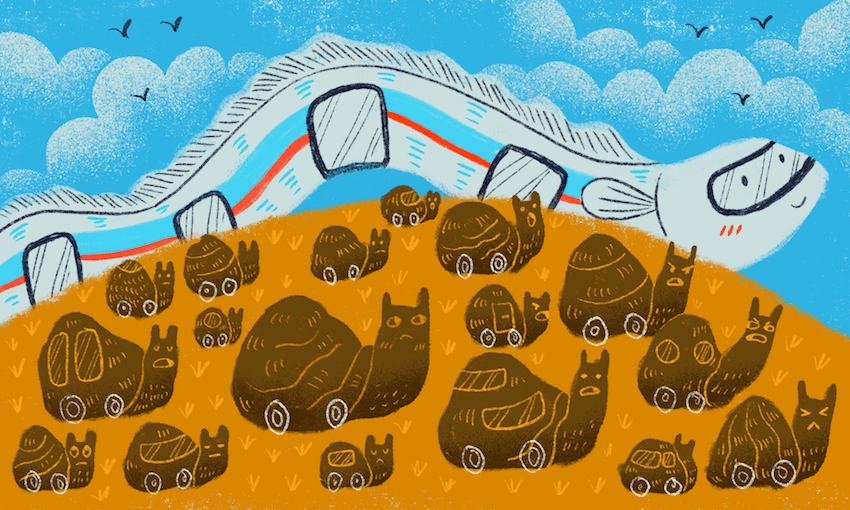 The tram system that connected every corner of Tāmaki Makaurau was destroyed in favor of a car-centric transportation system in the 1950s. What will it take to reverse this change?
When the Auckland Harbor Bridge opened in 1959, linking Auckland to the North Coast, its four lanes were heralded in the Auckland Star as "a new era of urban progress". Prime Minister Walter Nash hailed it as "an event of national significance".
On opening day, more than 14,000 cars passed through the port, but a few breakdowns and empty fuel tanks meant that within five hours of opening there was already a queue of almost 10 km going back to Takapuna. Those early commuters wouldn't have known it, but it was a sign of what was to come.
At the time, everything was focused on facilitating the transport of personal motor vehicles. In the 1950s, the number of cars in New Zealand more than doubled over the previous decade, and in 1960 there was one car for every 4.5 New Zealanders – a worrying trend which now sees New Zealand with one of the highest car ownership rates in the world.
In the 10 years before the bridge opened, Auckland's 71 km long tram system was systematically dismantled. The mood back then was that cars were the way of the future, says Sean Myers, Head of Rail and Transit, WSP New Zealand.
"The philosophy at the time was that people should have a car and be able to go where they wanted. City planners in the 1950s and 1960s drew up an Auckland-wide motorway master plan. And now we've spent the last 50 to 60 years bringing that plan to life.
What was then seen as an initiative to increase convenience and freedom has since become a cornerstone around the city's neck. Research shows that pre-Covid 90% of journeys in Auckland were made by private motor vehicle, with peak hour journeys taking up to 48% longer than off-peak times, making Auckland the worst rush hour in Australasia.
"Looking back, we now know that if you give everyone the opportunity, they will buy a car. And then they will buy two. And then if you make cheap cars, they'll get a third one. So everyone is driving their own car, the highways are congested, and the city is completely jammed," says Myers.
After years of talking about public transportation solutions to some of the congestion, cost, and environmental issues that come with such high car use, plans are underway to reintroduce light rail to our largest city. But what will it take to integrate a successful light rail system into the existing infrastructure? And with the city's population expected to reach over two million in the next decade, will it work in the long run?
Open new doors
So what does light rail give us more than a robust bus or train system? For starters, it offers ease of access that other options, like the heavy metro, often don't.
"You think of your quintessential European [light rail system] …one of the key things is that they're at street level, so people can walk up and down easily," says Myers.
This kind of continuity encourages both commerce and community. A look at the Auckland Tram Map from the beginning to the middle of the 20th century shows the impact of transport infrastructure on the development of the city even today. Trams have traveled all the streets that are still considered main strips for decades: Great North Road, Dominion Road, Manukau Road.
"Where once you may have only had enough people to justify a small number of shops or other commercial activities, you now have enough movement of people to justify many more. This allows entire neighborhoods to emerge, creating economic value for the entire community.
But there are some considerations that come with this increased development of the light rail corridor. Avoiding land grabbing and protecting housing and population diversity are both important to ensure light rail doesn't just serve those who can afford to live nearby. And this can be achieved with the right regulations.
Angus Gabara, Rail and Transit Client Director for WSP New Zealand, said the authority in charge of the Vancouver Skytrain in Canada has seen this potential problem and has therefore put in place guidelines for potential developers for development along the rail corridor.
"Many SkyTrain stations are designated as Urban/Municipal Centers, each with their own development guidelines and regulations. Some require housing around stations to include an affordable component.
An investment of this size is meaningless if it only serves communities that are already benefited by the current transport system, says Gabara. "If you largely benefit those who already have a range of transport options, you leave behind the people who potentially need it the most."
Do
The speed at which stations can be served is another strength of light rail over bus and heavy rail systems. Chris Reid, deputy group director of WSP UK, says personal vehicles are popular because they are often the most practical option. For public transport to succeed, it must also prioritize convenience.
"If a bus comes by every half hour or every hour, you know you have to [plan for that] in your journey. If they are every six minutes, that is not the case. You just have to pick up the next one that comes along, and that convenience makes a huge difference.
Reid has worked on many of Europe's most successful recent tram projects, such as the NZ$1.4 billion project Edinburgh tram diagram and the Odense tramway in Denmark. He says one of the biggest challenges for any government undertaking a large-scale infrastructure project is ensuring ordinary people are on board – and that often isn't easy.
During the construction of the Edinburgh tram project, the city was already known for its complete bus systembut Reid says the system was not future-proof, and communicating the importance of diversifying public transport options was crucial in getting people to support the developments.
"Yes, Edinburgh has the second best bus system and bus network outside of London, but that will only last until buses can no longer run on the street. Then people will complain that it's the worst bus system in the UK. So he was explaining that this tram that is being built isn't for now, it's for 10, 15, 20 years later.
Auckland Transport recently released plans for eliminate parking on 3.25% of the city's roads over a decade have been met with strong opposition from business owners and road users, despite being relatively light compared to what public transport advocates had hoped for. This reaction shows that the demystified idea that car parks are equal to customers is still very much alive.
In reality, studies have shown that removing parking spaces in exchange for public transport and pedestrian spaces does not harm the business and, in many cases, actually helps it. With a successful light rail system, our city's thoroughfares could look much more like the user-friendly streets we see in some European and British cities.
Light rail also has the potential to bring us much closer to 20 minute city modelwhere all Aucklanders can access their needs easily, quickly and locally.
Effectively communicating the benefits of light rail to residents is just one crucial piece of the puzzle to ensure a smooth transition to a more transit-friendly Auckland.