Switzerland: RhB will try to break the world record for the longest passenger train in October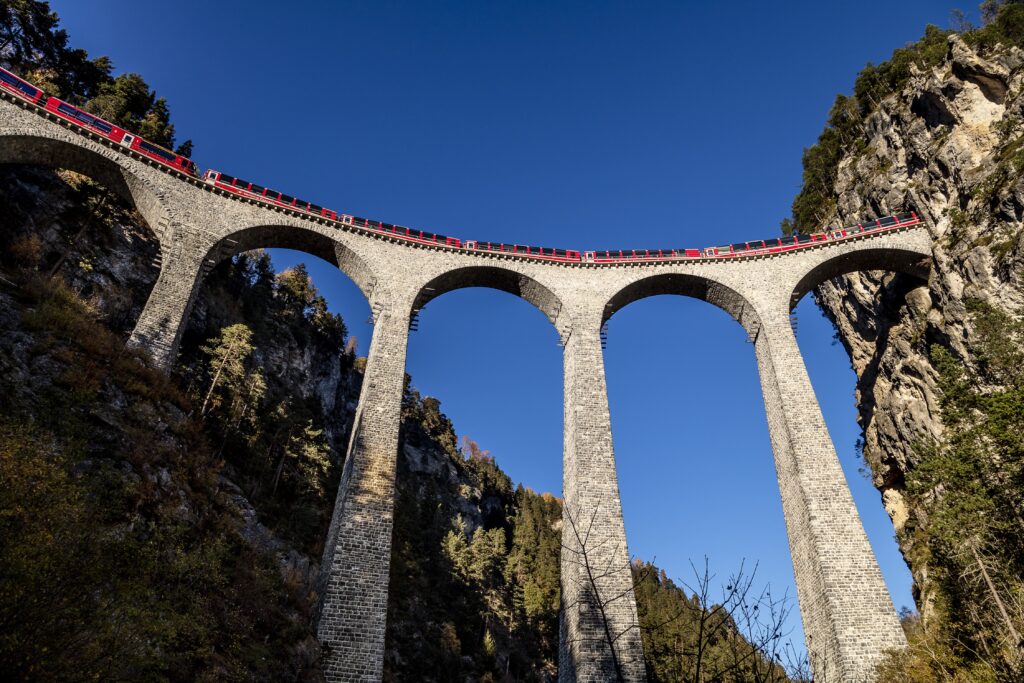 This fall, the Rhaetian Railway (RhB) will try to break the world record for the longest passenger train.
If successful, this will be listed in the Guinness Book of Records, replacing the Ghan, an Australian weekly sleeper service that connects Adelaide and Darwin in Australia.
At peak times, the Ghan can reach 1096 meters in length.
Bernina Express on the Landwasser Viaduct.
© Rhaetian Railway (RhB)
On October 29, RhB's 100-car, 1910 m long passenger train, consisting of 25 Capricorn multiple units, is to travel the UNESCO-listed Albula/Bernina route from Preda to Bergün and on the Landwasser viaduct.
The world record attempt is backed by 15 partners, including rail organizations ABB, Sersa, the Rhomberg Sersa Rail Group and Stadler, which produces the Capricorn units.
"The Rhaetian Railway and Stadler have been working closely together since 1963. We are proud to be able to support the RhB with our robust, high-quality trains and our know-how in this world record attempt.
This world record attempt is organized as part of the celebrations for the 175th anniversary of Swiss Railways and on the big day, a festival area – accessible only by train – will be set up for 3,000 guests in Bergün.
Tickets for the festival, which will include a railway village, music, comedy and food, will go on sale August 2.
"Switzerland is a railway country like no other. This year we are celebrating 175 years of Swiss railways.
"With this world record attempt, the RhB and its partners want to make their contribution and achieve a pioneering feat never seen before.
"In addition, we would like to use this event to generate lasting attention for ourselves, but also for Graubünden and Switzerland, and thus promote tourism."
To promote the event, a new locomotive 644 was unveiled this week, which will enter service immediately.