The first public excursions for the Florida 4-6-2 steam locomotive are scheduled for December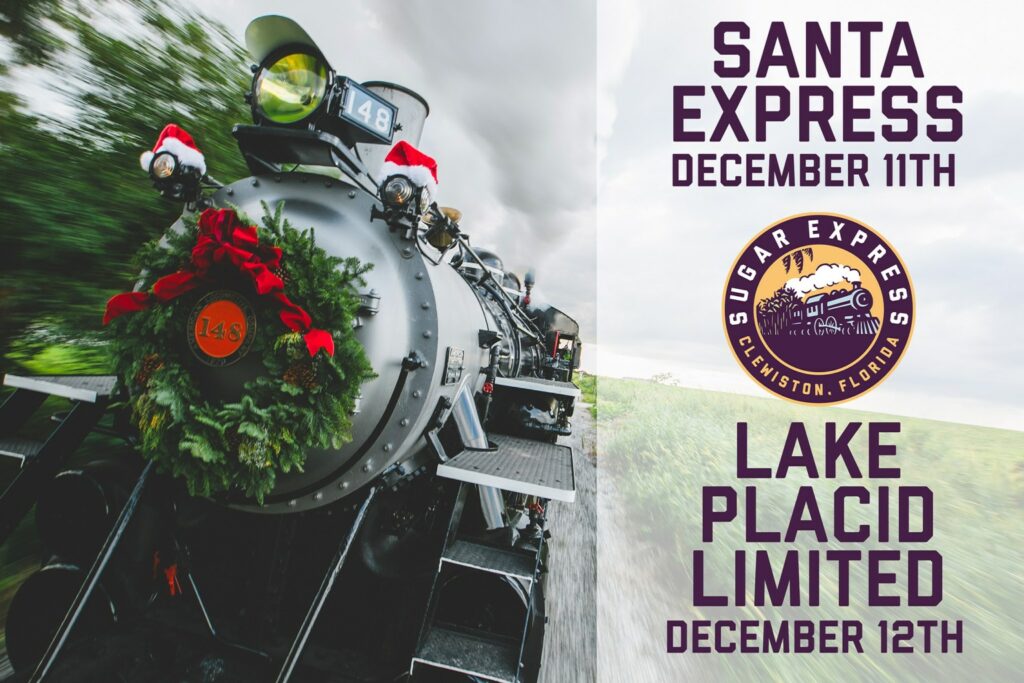 CLEWISTON, Fla. — On December 11, The Santa Express will deliver gifts to Toys for Tots organizations and local families in need. Special stops with Sugar Express #148 and Santa Claus are scheduled in Glades, Highlands, Hendry, Palm Beach and Martin counties.
"This is our second year operating the Santa Express and we couldn't be happier to deliver these gifts to our friends and neighbors," said Scott Ogle, Director of Operations for Sugar Express. "We encourage all of our neighbors to come and safely enjoy the sights and sounds of No 148 and see Santa Claus as he passes by."
At each stop, the public will be welcome to see Santa Claus and his train. The route, stops and an approximate schedule can be viewed at sugarexpress.com/santa. All train stops and tours are completely free and open to the public. Interested parents can sign up to receive toys later in December directly from the program at toysfortots.org.
ANNOUNCEMENT OF THE FIRST PASSENGER EXCURSION
On December 12, Sugar Express will host the first-ever public passenger excursion behind steam locomotive no. 148 between Clewiston and Lake Placid, Florida.
"We are very excited to give people the opportunity to ride a steam passenger train in the South Central Florida area, and this trip is just a glimpse of the wide variety of events we are exploring with the Sugar Express as we grow our fleet of passenger trains. Future events like this will no doubt boost tourism and interest in the rich culture of Glades communities and we are proud to be part of this effort," said Ogle.
This full-day round-trip includes accommodation by luxury coach and open-top sightseeing car with a scheduled departure from Clewiston at 10:00 a.m. and return around 4:00 p.m. Passengers will enjoy a trip to through the Florida countryside, stopping in downtown Lake Placid for lunch alone, returning to Clewiston later that day.
Ticket sales will begin on sugarexpress.com on Tuesday, November 23 at 6 p.m. A limited number of tickets will be available on sugarexpress.com. Tickets start at $148.00 and light refreshments are included. Parking and boarding for the trip will take place at Basillian Cres and South Deane Duff Avenue, Clewiston, Florida.
More information is available online.
– Excerpt from a Sugar Express press release online as of November 18, 2021.