Woman injured as Overland passenger train collides with lorry near Horsham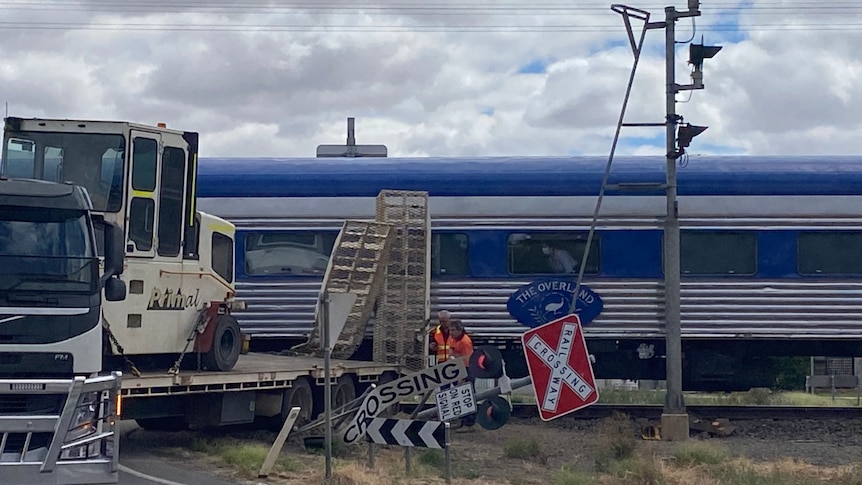 Police hailed the actions of a passerby who alerted a train driver to a broken down lorry at a level crossing this afternoon.
Key points:
The impact left a woman in hospital with a minor neck injury
Passengers on the Melbourne-Adelaide train will be transported by bus
Police say it's lucky the crash wasn't much worse
The Overland train left Horsham station in western Victoria around 1.30pm with around 35 passengers on board.
Police said the train was traveling at 30 kilometers per hour when it hit the back of the truck.
Both vehicles sustained minor damage and the collision also uprooted a railroad crossing sign.
A passenger in her 30s was taken to hospital with a neck injury, but no one else was injured.
The lorry driver, a Horsham man in his 50s, was not injured.
Acting Sergeant Troy Curran said the bystander did very well to warn the train conductor.
Loading
"The truck in question suffered a mechanical failure while crossing the tracks and he left his truck about two feet above the line," he said.
"The train then turned around the corner and a man, a witness, tried to signal the train to get off.
"He did well…the driver saw the vehicle in time and braked, but unfortunately he couldn't slow down in time.
The intersection was closed for several hours while the cleanup and investigation took place.
Both drivers have spoken to authorities and police, and Pacific National has launched investigations into the incident.
At 6 p.m. the police left the scene and the train was moved to a siding, although Edith Street was still closed at the spire gate and rail freight in the area remained slow.