World famous steam locomotive The Flying Scotsman arrives in Dorset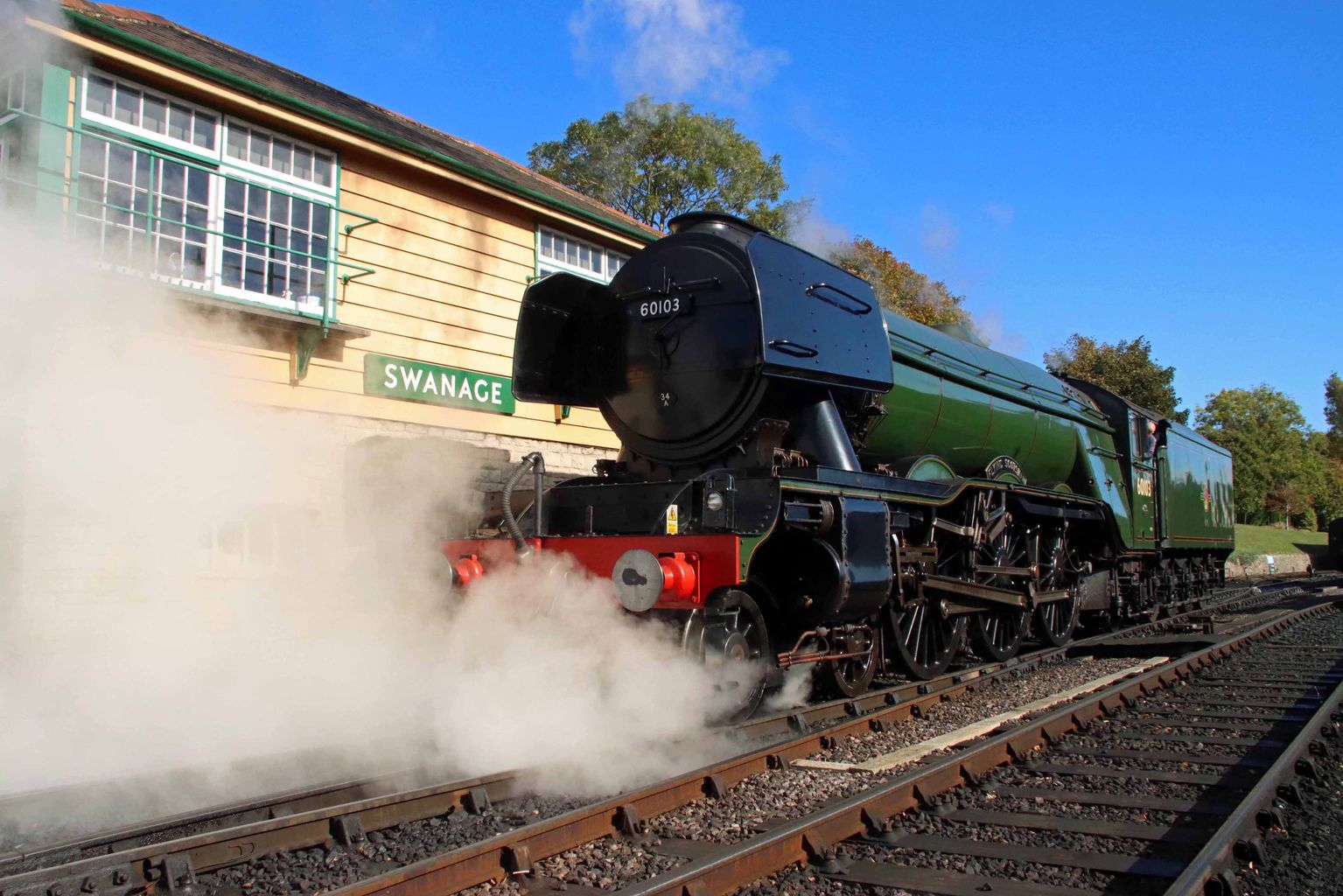 The world's most famous steam locomotive 'Flying Scotsman' has arrived on the Swanage Railway
The record icon will haul trains for five days and be on public display for almost two weeks.
Close to celebrating its centenary, the 97 tonne Class A3 locomotive – completed in 1923 by the London and North Eastern Railway (LNER) – arrived at Swanage station on the morning of Tuesday 18 October 2022 after a six-week train journey hours from London.
Owned by the National Railway Museum in York, No. 60103 'Flying Scotsman' will be on the Swanage Railway until Monday 7th November 2022.
When tested in 1934, the Nigel Gresley-designed locomotive was the first steam locomotive in the UK to pull a train at 100 miles per hour.
"Flying Scotsman" will carry passenger trains between Swanage, Corfe Castle and Norden from Saturday 22 October 2022 to Wednesday 26 October 2022 inclusive.
Behind No. 60103 will be a historic Devon Belle Pullman observation car from the late 1940s – known as Car 14 – which dedicated Swanage Railway volunteers rescued from San Francisco in the United States in 2007 where it was a static bar.
It was between 1969 and 1972 that "Flying Scotsman" drove the Devon Belle Car 14 in the United States of America during a tour of the country aimed at promoting British exports. Unfortunately, the company organizing the tour went bankrupt and 'Flying Scotsman' was sent home, but the Pullman observation car remained in the United States.
No. 60103 will be on display at Swanage Station for pre-booked public viewings at the 'Flying Scotsman' footplate on Thursday and Friday 20 and 21 October 2022, plus daily between Thursday 27 October and Sunday November 6, 2022 included.
Swanage Railway Company chairman Bob Patterson said: "It's wonderful to see 'Flying Scotsman' in Swanage because the iconic locomotive has a wonderful charisma – it's a true icon, an impressive piece of history. railway engineering of the 1920s and the most famous steam locomotive in the world.
"We are very honored to have 'Flying Scotsman' visiting the Swanage Railway and it will be great to see No 60103 carrying the unique Car 14 Devon Belle Pullman Observation Car as they ran in pairs during of a tour of Canada and the United States to promote British exports between 1969 and 1972," added Bob, who is also a trustee of the Swanage Railway Trust and a volunteer station porter on the People's Heritage Line.
Standard class seats for an hour behind 'Flying Scotsman' return from Swanage to Norden and back cost £39 pp, while Premium class seats, in a 1930s Southern Railway Maunsell heritage coach , cost £55 per person.
Tickets to ride in the luxurious No. 14 "Devon Belle" Pullman-style car behind "Flying Scotsman" – for delicious breakfast pastries, champagne and gourmet canapes or a refreshing afternoon tea – cost £99 per person.
Costing £7,944 to build, 'Flying Scotsman' was named after the prestigious London-Edinburgh express train service which the locomotive helped run – the journey time being eight hours.
In 1924 'Flying Scotsman' appeared at the British Empire Exhibition in London and in 1963 British Railways withdrew the locomotive from service.
A patriotic entrepreneur, the late Alan Pegler, saved the 'Flying Scotsman' from scrapping when he purchased No. 60103 from British Railways in 1963 for £3,000 with the political backing of Britain's Prime Minister of the time, Harold Wilson.
Purchased by the National Railway Museum in 2004, 'Flying Scotsman' has been restored through a ten-year, £4.2 million project funded by the National Heritage Memorial Fund and the Heritage Lottery Fund as well as public donations.
Listen to all the latest news from across the UK every hour, every hour, on Greatest Hits Radio on DAB, greathitsradio.co.uk and on the Greatest Hits Radio app.